Hello bloggers, I hope all is well and that everyone is having a wonderful weekend! Mine has been pretty relaxing so far. It's nice to have a whole saturday to just relax and work on projects around the house. It's finally starting to look and feel like Spring around here. The free Saturday and warm weather inspired me to do a couple of DIY projects this afternoon. :)
Total cost for this project.
1.00 for the bag of moss from The Dollar Tree (of which I only used a fraction of it) this stuff will last me awhile.
1.99 for the letter from Hobbly Lobby
=2.99 total to make this mossy letter, I think it turned out great!
This next project was inspired by these little guys. The next two pictures are of my wreath on our front door. A momma bird made her nest there and there are four tiny eggs in it! I just discovered it yesterday. I don't normally use the front door because I always drive into the garage and go inside that way. But I was picking up some trash in our yard and near the front door and noticed a bird fly away from where my wreath is. I went up to the door and peeked inside and it was there! What a pleasant surprise! I told my hubby that when we do use the front door, that we need to be really careful when opening and closing it. I can't wait til we have some babies in there! :)
Anyways, I got the idea of elevating my cloche dish from my friend Nicole at Suddenly I See. You can check her project out
right here!
Thanks for the idea Nicole!
Finished Product
The Process
Happy Spring Everyone!
Blessings,
~Lindsey
linking up to

and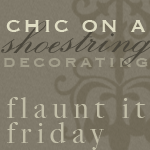 and

and
and